Remove Excess Water and Create an Even Product Flow 
Low maintenance
Quiet operation
Easy to clean
Dewatering Shaker Tables >>
Remove water and spread berries or other product efficiently and evenly to create an even flow feeding onto the next machine in a processing line. The mesh deck is driven by an unbalanced "shaker drive" gearbox. Product moves along the deck by an oscillating motion. Water drains away from product an discharges out through the mesh deck. 
Models Available: 32″ wide x 44″ long  /  36″ wide x 44″ long  / 58″ wide x 44″ long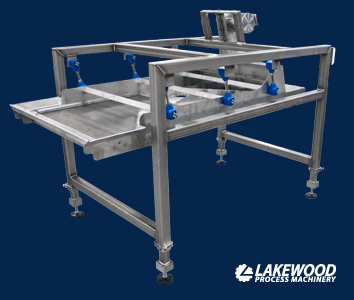 << 90 Degree Shaker Tables:
Product is fed onto the 90 degree shaker from a conveyor or another piece of machinery. The movement of the shaker removes water and encourages all product to spread out evenly across the shaker's deck, allowing it to be spread evenly and consistently onto whatever conveyor or piece of equipment the shaker is feeding. The 45 degree angle of the deck's exit end allows you to feed your next piece of equipment in line at a perpendicular angle without product piling up in one spot.
Models Available: 20″ wide x 77″ long  /  36″ wide x 88″ long
Download the brochure here