High-speed clamshell filling with precision in container weight accuracy
Product is fed from a tilt belt into the 12 "scale hoppers" that will hold pre-weighed batches until containers are conveyed in place beneath them. When a container is sensed to be in place, the "scale hopper" opens, allowing it's contents to transfer into the container below. Product is gently guided through a funnel that seals itself over the container, ensuring none escapes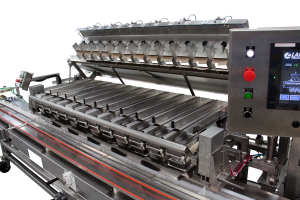 during the transfer. The funnel raises, allowing filled containers to be transported through the closing section of the machine.
NEW dribble gate system for a higher level of accuracy
NEW trap-door bucket design for quicker unloading
NEW electronic interface for easier trouble shooting & repair
Drop heights have been reduced to an absolute minimum for the most gentle filling possible.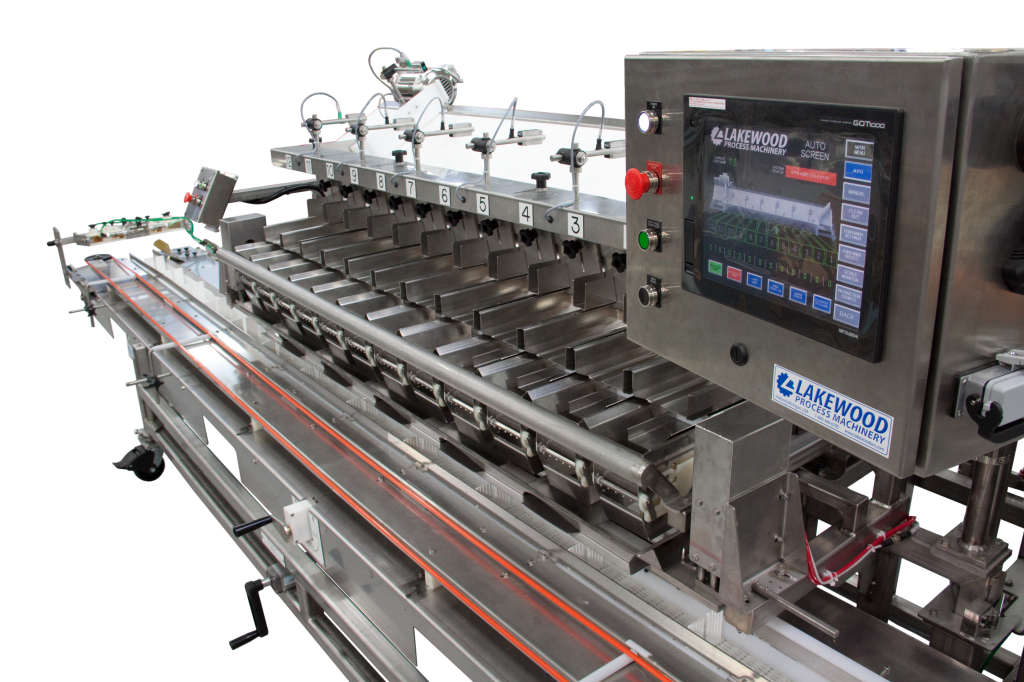 The EZ Fill machine features 12 scale hoppers with 12 drop points ensuring maximum production rates where filling action never stops, and a single transport conveyor that requires very little adjustment for clamshells with the same footprint (4.4oz, 6oz, pints, and some qts). Larger clamshell adjustments are user friendly with simple hand crank lane adjustments and manual dump funnel changeover. The new touch screen interface with menus simplifies all user settings and the machine is programmed to virtually eliminate the need to make adjustments to achieve the proper balance between speed and accuracy – the program makes these adjustments automatically.
EZ Fill Speeds Possible
6oz Containers
Up to 180 Clamshells per minute
2lb Containers
Up to 80 Clamshells per minute
"Speeds Possible" are based on running conveyor at 150 feet per minute, and require ideal conditions including keeping the filling area full at all times, consistent, high-quality containers, and good-quality fruit (not excessively wet)
EZ Fill Sustainable Average Speeds
6oz Containers
Up to 160 Clamshells per minute
2lb Containers
Up to 60 Clamshells per minute
"Sustainable Average Speeds" are based on Lakewood's best estimate considering "normal" packinghouse conditions (Filling area not full at all times, and potential inconsistencies in fruit / products)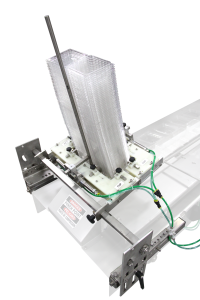 The tilt belt automates the process of gently distributing product to the feeder trays as volume increases, and automatically adjusts speed to ensure that product is dispersed evenly for the fastest production rates possible. The EZ Fill automatically runs fewer lanes as volume decreases during production to ensure steady, non-interrupted production regardless of volume. The tilt belt also acts as a secondary soft sorter, collecting softer fruit or berries and carrying them to a lug rack at the end of the tilt belt to aid in a last measure of quality control.
<< Includes the industry's most reliable clamshell denesting technology – each machine includes a Lakewood Wedge Wheel Denester and (3) Lakewood Wedge Wheel Denester cartridges, preset for your specific container sizes.
Download Lakewood's EZ Fill brochure here